This moist Vegan Chocolate Chip Pumpkin Bread will win you and all your friends over! It's gluten free, easy to make and tastes absolutely divine!
Woohoo!! Happy October!! I've been hit by the fall baking bug. It's been a mood. A mood I know everyone around me is thoroughly enjoying. OKAY, okay I am also throughly enjoying this bug AND reaping the rewards.
Every now and then I get whammied with the baking bug. Back when I used to run my baking business, I was in that mood daily, 365. Now, it hits me in spurts, usually around holiday season (perfect excuse) and it's usually pretty obvious here on the blog. Pumpkin cheesecake swirl brownies, baked apples with an oat crisp, and vegan banana bread type recipes tend to come dancing out and all I want to do is bake, bake and bake! Oh, and now this vegan chocolate chip pumpkin bread. Wow, this one is quite a treat.
Hold on to your hats, friends, it's about to be a delicious ride.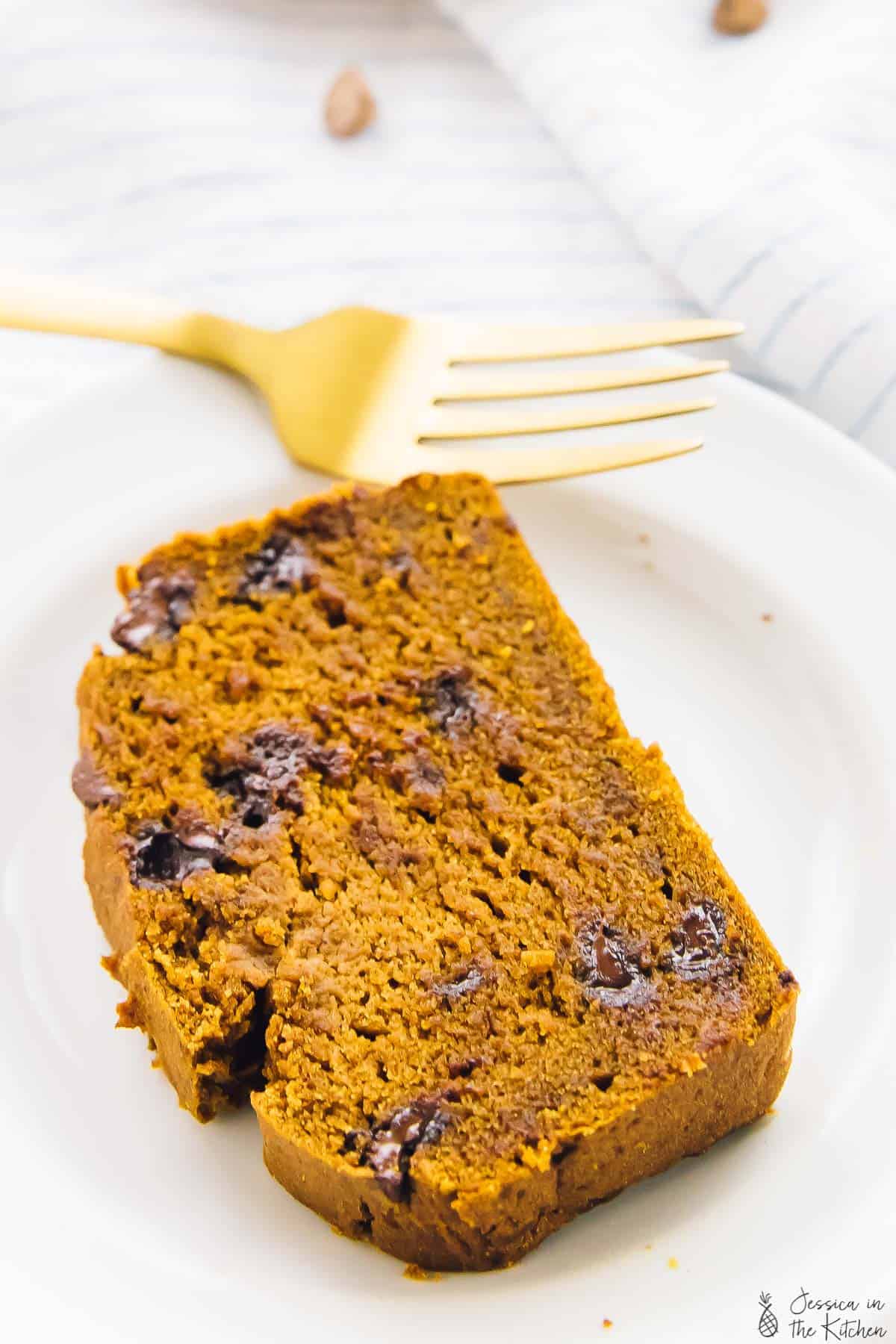 This isn't my first shebang with a pumpkin bread. When I first started Jessica in the Kitchen, I made one, that came with a hilarious story about the gas in my bakery oven being off the first three times. Since then, I'd like to think a whole lot has changed (my fashion sense included – Thank God) and I reworked this recipe to an even better version.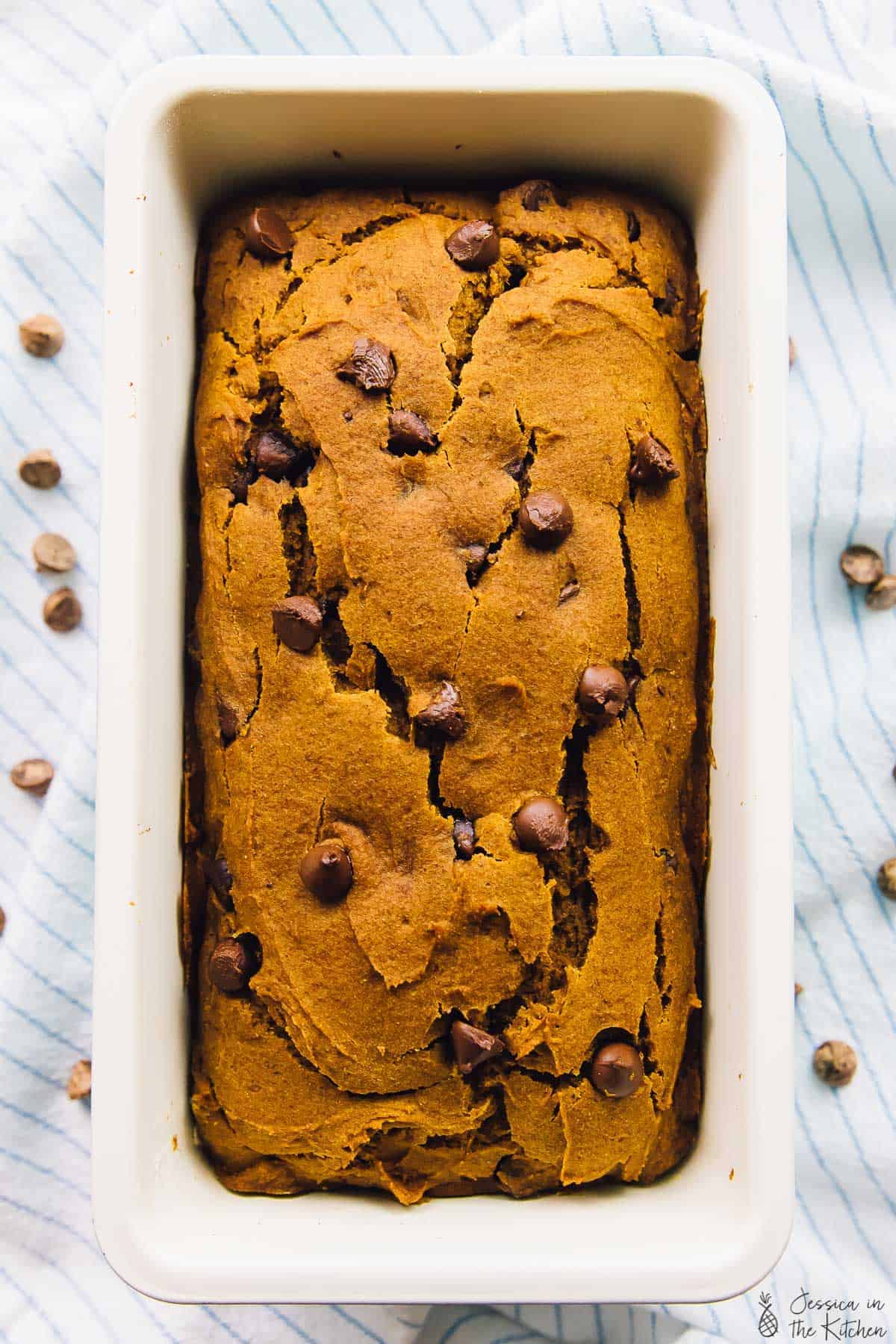 The funny thing is, this chocolate chip pumpkin bread was divine before, and loved by friends and family. This time though, it's unbelievably moist, holds together better and is absolutely addicting. Needless to say, it's hard to grab just one slice. Let me describe this pumpkin bread to you. It's the best of what sweet breads have to offer. It reminds me of banana bread, without the banana, but with pumpkin instead to give it that soft and moist feel and texture. In every bite there's a taste of fall thanks to the pumpkin spice, and it is undeniably good.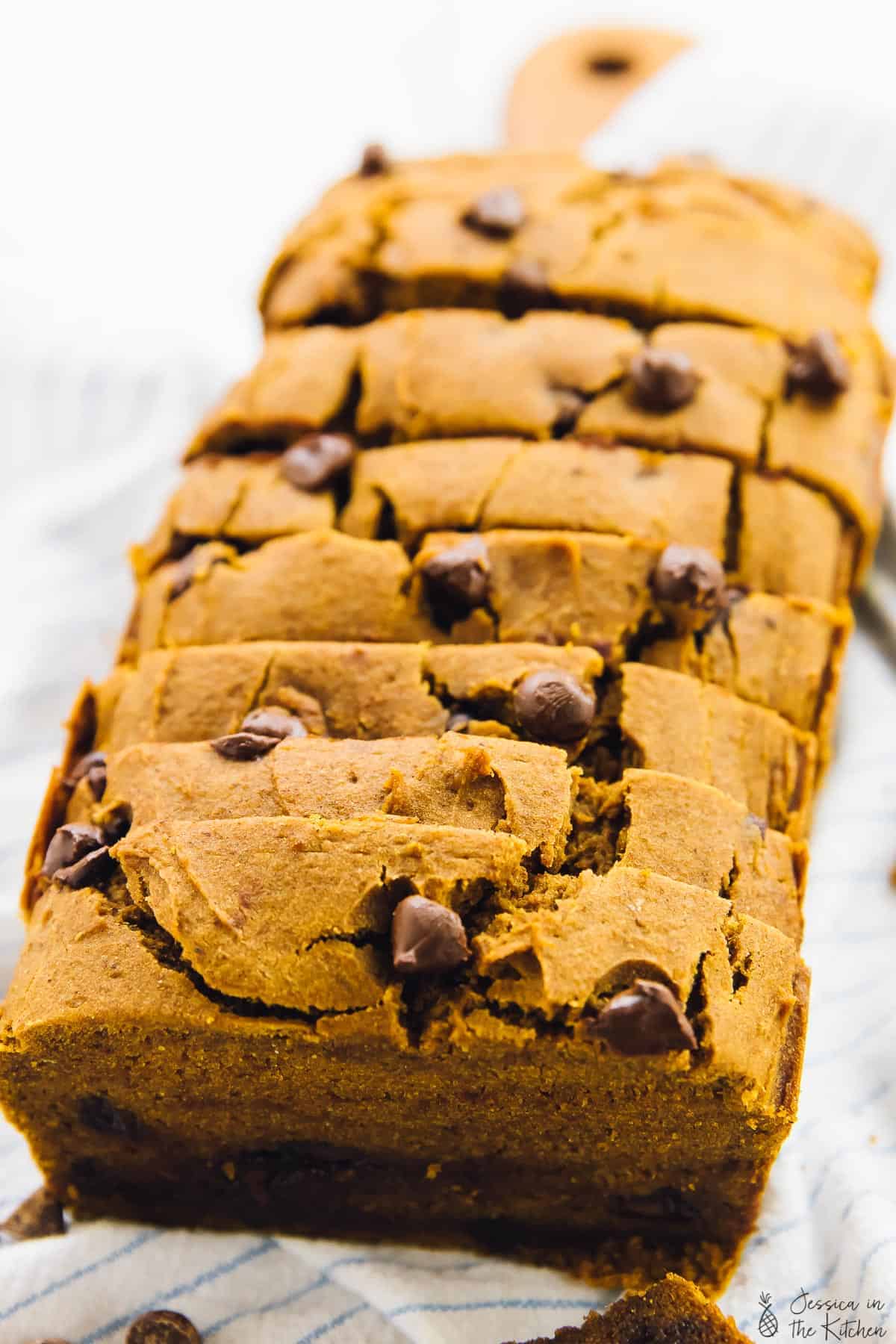 Oh, then there's the chocolate chips. Pumpkin and chocolate go SO well together since pumpkin is so versatile. Regardless of the fact that it's 84 degrees outside, you best bet I curled up with a blanket, my pumpkin spice matcha latte and this baby in front of Netflix. I promise this is so good and you won't regret giving it a try.
Enjoy friends! P.S. spread the love and share some slices with your friends. They'll love you for it.
Oh! In the best of pumpkin news: how adorable is this?! I think it fits in with Jessica in the Kitchen to the T.  Oh, and please find all the tiny pumpkins in the world and make this. It's on my (endless) DIY list STAT.
https://jessicainthekitchen.com/vegan-chocolate-chip-pumpkin-bread/
On – 02 Oct, 2017 By Jessica